About Us
Integrated Health Services is an award winning, SWaM and CARF certified mental and behavioral health agency serving the residents of Southeastern Virginia, Richmond, and surrounding areas.
Integrated Health Services employs a diverse and highly credentialed team of individuals to include Licensed Professional Counselors, Licensed Clinical Social Workers, Trauma Certified Therapists, Certified Substance Abuse Counselors, Certified Sex-Offender Treatment Providers, Board Certified Art Therapists, and many others who have served in both the public and private sectors. These talented individuals ensure the provision of compassionate and specialized care as well as oversee daily operations and service delivery to our clients. We offer a range of services to children, adolescents, and families (whether traditional, blended, single-parent, or foster). Treatment options include outpatient therapy, specialized intensive in-home treatment, substance abuse counseling, trauma focused therapy, sex offender treatment, behavioral interventions for those diagnosed with autism spectrum disorder, and an array of other services. For more information please go to our
services page
.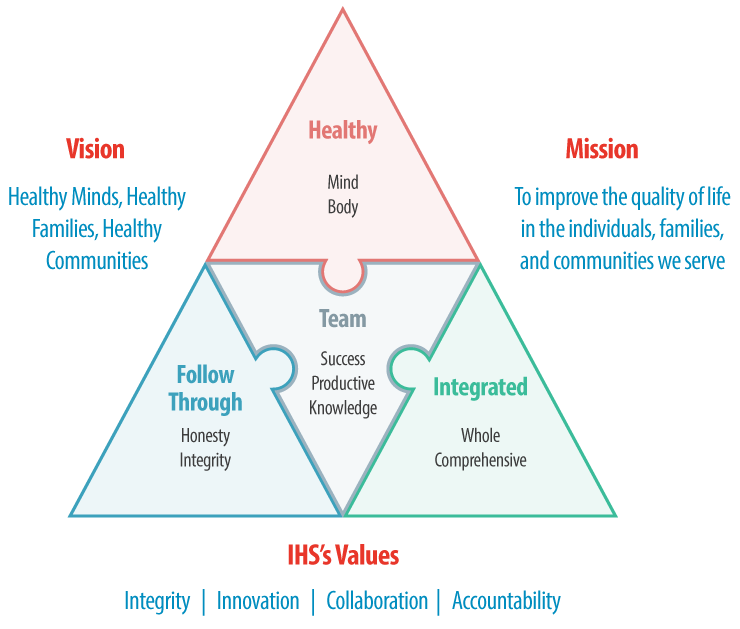 IHS Leadership Team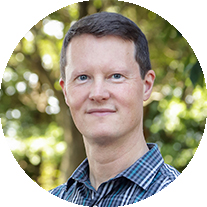 Jonathan Gibbs, CEO
Jonathan is a lifelong resident of the Hampton Roads, Virginia area. He has earned undergraduate and graduate degrees in psychology and counseling, respectively, from the College of William & Mary. Jonathan began his professional career working in the juvenile justice system as a court diversion program manager for several years. Since, he has worked in operational management and development roles in behavioral health and substance use disorder treatment for well over a decade. Jonathan's experience has made him astutely aware of the various social determinants of health and the crucial need to address discrepancies in access to resources that play a vital role in life quality for many individuals. Jonathan has a strong passion for helping local youth and families get the help they need to overcome obstacles to well-being. In Jonathan's extensive operational management experience, he has developed and grown many programs. The most rewarding aspect of Jonathan's career has been and continues to be creating policy and work-flow systems to ensure impeccable client care and safe and ethical work environments. Jonathan is extremely honored to serve as CEO of Integrated Health Services where he has the privilege of leading an exceptional team of caring professionals that plays a massive role in positive change for our community. In his free time, Jonathan enjoys traveling, golfing, and beach vacations with family and friends.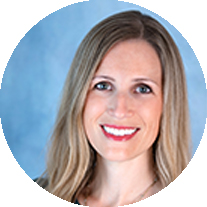 Stephanie Cady, Director of Operations
Stephanie's background is based in human services, psychology, substance abuse counseling. Through her own experience, Stephanie is passionate about linking mental health professionals with growth and learning opportunities and helping staff meet their development goals. Stephanie is bilingual in Spanish and English and she is currently pursuing her master's in professional counseling through Liberty University. In her free time, she enjoys working on her non-profit's educational program providing resources and training to families, and spending time outdoors with her family.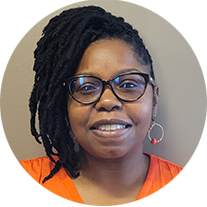 Shanieka Muhammad, Office Manager
Shanieka has worked as a practice manager in the behavioral health field for 10+ years and has a degree in Human Services. Through her extensive experience, she has cultivated a great passion for helping those in need. Shanieka manages daily office operations at IHS, always providing a warm presence and highly empathic listening ear.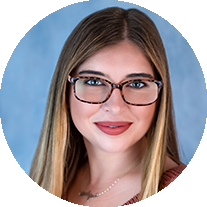 Kayla Loughman, Finance Manager
Kayla has worked within the community based mental health field since 2012. After studying Accounting at Old Dominion University, she decided to pursue a desire to work with children and families. Kayla found her passion, supporting clients and direct care staff through administrative work. At IHS, Kayla is committed to high quality, detail-oriented work specializing in billing, regulatory compliance and managing the medical records system. Originally from Western Massachusetts, Kayla loves living close to the beach and the water. She can often be found enjoying her downtime outdoors.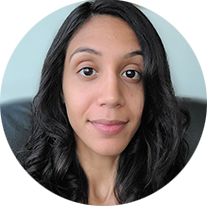 Julissa Batista, Human Resources Manager
By focusing on supporting employees and ensuring a positive workplace environment, Julissa has been able to put her degree in Organizational Leadership with a concentration in Human Resources Management to good use. Julissa grew up in Elizabeth, New Jersey and moved to Virginia in 2020. Julissa is bilingual in Spanish and English. During her free time, she enjoys traveling with her family and playing football by the beach.
IHS Clinical Programs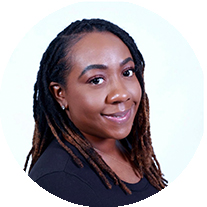 Bianca Cornelius, Outpatient Therapy Director
Bianca is a Licensed Professional Counselor and leads the growing outpatient therapy program. Bianca has worked with youth since 2013 in community based counseling and school settings. She earned her Master's degree in Mental Health Counseling and Education Specialist degree in Counseling from Norfolk State University and Old Dominion University, respectively. Bianca joined the IHS team in 2017 and attained her license while working within the Community Based Program. Bianca's mission is to help others to recognize their strengths, improve their ability to navigate through life's challenges, and increase their sense of meaning and purpose in life.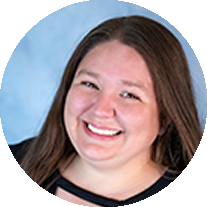 Brittany Botelho, Community Based Programs Manager
Brittany is a Supervisee in Social Work and has been on the IHS team since graduating from George Mason University in 2012. During this time, Brittany has developed as a clinician providing Intensive In-Home Services and Outpatient Therapy to children and their families, supervising staff in the Community Based Programs, as well as completing assessments. In her current role Brittany is able to fulfill a desire to help families thrive by working closely with QMHP's to ensure their clients are able to continue to receive services they are in need of.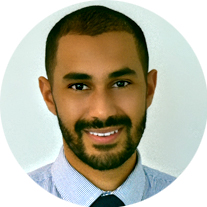 Jamal Brown, Sexualized Behavior Treatment Director
Jamal is a Certified Sex Offender Treatment Provider (CSOTP) and Licensed Professional Counselor (LPC). He has been in the Hampton Roads area for over 13 years working with the department of juvenile justice, local and state agencies, and educational institutions on proper maintenance, education and risk management within the juvenile population, specifically those with sexually reactive behavior. He has also helped adolescents in both community and residential settings providing therapy and reentry solutions.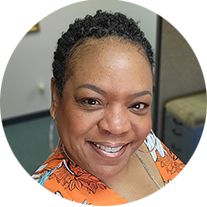 Christal Britt, Community Based Programs Lead Clinical Supervisor
Christal is native of Hampton, Virginia and describes herself as a magnet for people as she strives to help others become the best possible version of themselves. Christal has earned two Master of Arts degrees from Hampton University: one in Community Agency Counseling and a second Education Specialist degree. Christal is a Certified Substance Abuse Counselor and a Resident in Professional Counseling. Christal has worked in the counseling field for over two decades, serving a diverse population of individuals. Her experience began as a Correctional Counselor within the penal and city jail systems. It was in these settings that Christal groomed her experience and increased her knowledge about working with those who suffered with substance abuse and other addictions. Christal transitioned to community based programs that assisted addicts to normalize in society as healthy individuals and manage their lives in a holistic way. Christal has provided direct care counseling services to children and their families in home and school settings via Intensive In-home and Therapeutic Day Treatment services. Christal has worked extensively in program management and on leadership and supervisory teams providing education, training, supervision, guidance, and support to those whom she supervises. Christal's clinical framework and approach is based in Person-Centered, Solution Focused, and Cognitive Behavioral Therapies.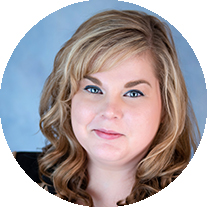 Anna Smith, Sexualized Behavior Treatment Program Specialist
Anna is a Resident in Counseling and Certified Sex Offender Treatment Provider (CSOTP) Resident, who been working with the juvenile poplulation since graduating with her M.S. in Clinical Counseling from Bellevue University. Anna has volunteered with local non-profit organizations, participated in several community mental health awareness events, and has a passion for advocating for all her clients and their families. Currently, she is working with individuals with sexualized behaviors and their families, while implementing evidence based interventions with an empathetic approach.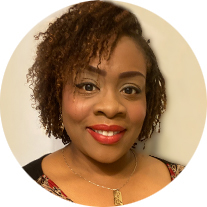 Tammy Becoat-Eclou, LCSW
Tammy K. Becoat-Eclou is a Licensed Clinical Social Worker who has 15 years of experience working in Human Services in various capacities, including foster care, mental health, and administration. While working in Child Welfare, Tammy fulfilled a myriad of roles to serve the community, including a Family Services Specialist in Foster Care and Adoptions; the Independent Living, Education and Training Voucher (ETV) Program Coordinator; and the Children's Services Act (CSA) Coordinator. Tammy has supervised the Intensive In-Home and Mental Health Skillbuilding service areas for over three years in both the Hampton and Richmond offices.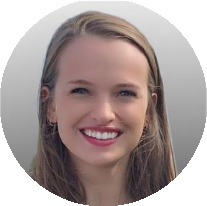 Nicolette Karpie, LCSW
Nicolette has been working with children, adolescents, and their families since earning her MSW from New York University. Nicolette has provided clinical counseling services to youth in school, home, and outpatient settings, adapting her approach to best support each individual in reaching their personal goals. Nicolette is passionate about helping young people build positive, healthy futures, and currently serves on our team as an Outpatient Therapist and Clinical Supervisor.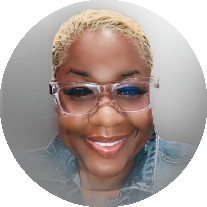 Maya Richardson, Resident in Counseling
Maya is a native of Lexington, Kentucky. Maya has been a School Counselor with Hampton City Schools for sixteen years and joined the IHS team in 2020. Maya enjoys working with young people and has a desire to work with people of all ages. Maya's hobbies include traveling, shopping, spending time with family and friends, and meeting new people. Maya has two children that are her inspiration. Maya loves life and enjoys helping others realize their potential for a great life. Maya has a Bachelor's degree in Psychology from Alabama A&M University, Master's of Art and Educational Specialist degrees in School Counseling both from Hampton University.